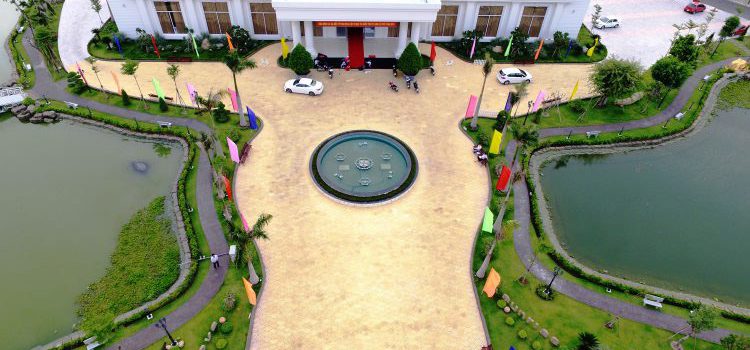 CANA is the leading modern entertainment complex of Tay Ninh such as: garden coffee, Karaoke, indoor and outdoor children playground, swimming pool, tennis court, Gymnasium , VIP room, Event Center – Conference – Wedding.
With luxurious design, spacious space, can accommodate more than 1000 guests with professional service quality, Sunrise restaurant is the first choice for weddings, conferences, events, festivals on request. of all customers from low to high. The price for party service is only from 2tr5 / table. Hotline: 0941.696.944 – 0913.535.752.

The Sunrise event and event center is perfect for your choice
With luxurious space that is still warm, the VIP Starlight VIP room system is meticulously elaborated from food to service, all will bring you satisfaction for a perfect party. The price for party service is only from 2tr5 / table. Hotline: 0941.696.944 – 0913.535.752.
STARLIGHT VIP ROOM – Ideal choice for small parties
Eden café Eden in the heart of the city. Operating hours are from 6:00 am to 10:00 pm daily. Service prices are only from 19k-45k. Hotline: 0915.565.352.
EDEN CAFÉ – Eden in the heart of the city
The system of modern karaoke rooms, high-grade audio, operating from 9h00 to 23h00 daily. The service price is only 150k / h. Hotline: 0917.565.352.
CANA KARAOKE luxury class
Located on the green Cana Center, Cana Swimming Pool is not only an ideal place for swimming enthusiasts, but also a place where everyone can enjoy a healthy and full of energy. live after stressful working days. Applying the world's leading DESJOYAUX technology with all pool equipment imported from France keeps the lake always green and harmless to your skin.
Especially, Cana Swimming Pool is a suitable place to experience the style of organizing new events, "outdoor pool party" – in the airy space of nature. Attending this party, you can swim, have fun and enjoy the fun underwater games. Hotline: 0918.908.214.
SWIMMING POOL – the ideal swimming venue
The modern professional aesthetic fitness center operates from 5:30 to 22:00 daily. Service fee is only 315k / month depending on package. Hotline: 0917.565.352.
CANA GYM – FIT LIFE HAPPY LIFE!
The US Open standard tennis court operates from 4:30 to 22:00 daily. The rental fee is only 120,000 VND / hour. Hotline: 0917.565.352.
CANA TENNIS US Open standards
Cana Kids Children's Center is the center of education – Tri investment is the most professional and modern in Tay Ninh. This is a combination of entertainment and education in games for children from 1 to 12 years to help not only physically but also learn skills, play intellectual development. Hotline: 0918.216.842.
CANA KIDS INDOOR – The first Catholic Center in Tay Ninh
Outdoor Playground KIDS OUTDOOR is a comprehensive family recreation area, including a variety of colorful, age-appropriate multi-color games.
Come to KIDS OUTDOOR, you will experience the service, unique entertainment, novelty. At the same time, there is a system of professional security guards to bring the safety to customers.

Outdoor playground CANA KIDS OUTDOOR